Before choosing a specific model of a small refrigerator, it is worth scrutinizing the manufacturer's stated specifications. Let's give some recommendations on this issue and consider all advantages and disadvantages of the most popular models.
Criterion #1 – dimensions and design type
For a kitchen with a small cube, where every free centimeter is valuable, an ergonomic solution is a compact fridge up to 130 cm high. Such appliances are conditionally divided into mini-bars used for cooling drinks and full-fledged refrigerators with or without a freezer, but in a compact version.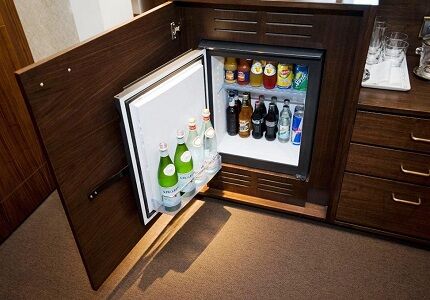 Refrigeration appliances are available as free-standing or built-in versions. In the second case, the equipment is placed in the prepared niche in whole or in part, depending on the author's idea of the interior. Also popular models in the form of drawers or independent boxes. To see more info about built-in refrigerators follow this page best built-in refrigerators.
Manufacturers of small freezing equipment produce single and double chamber systems with and without compressor. Despite the small size, some designs have thought of sliding shelves for drinks.
For individual units, the place of installation is not limited to the space under the kitchen countertop, they are placed in any niche and do not have to stick to the food block. Most single-chamber products are additionally equipped with a freezer. There are models with lower and upper arrangement of the freezer compartment. However, the first option is more spacious.
There are models without a freezer at all, respectively, the useful space in them is much larger. However, separate freezer cabinets are purchased for domestic use.
Criterion #2 – type of defrosting system
Like the standard versions, the smaller ones work with one of the defrost systems: the weeping wall or No Frost.
The principle of operation of the weeping wall technology is as follows: The condensate droplets formed on the rear wall of the chamber flow into a special compartment, where they are evaporated.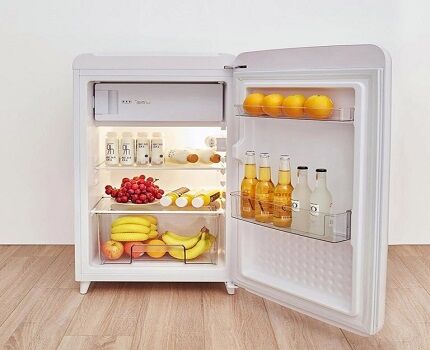 Such refrigerators are to be defrosted once a year. This is a budget option, used in inexpensive models.
Know Frost technology is based on chilled air circulation. The condensable moisture enters a special compartment where it evaporates. The result is no need to defrost.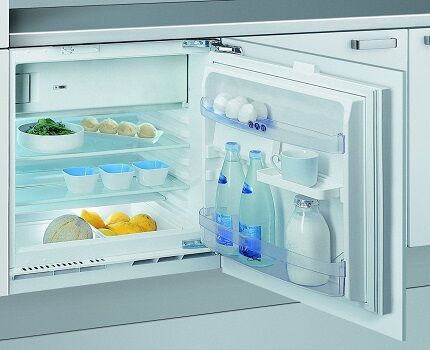 Criterion #3 – materials for manufacturing the case
Recently, impact resistant plastic has been used as the basic material for the case. This results in a significant reduction in metal consumption during production, which reduces the overall weight of the technical device.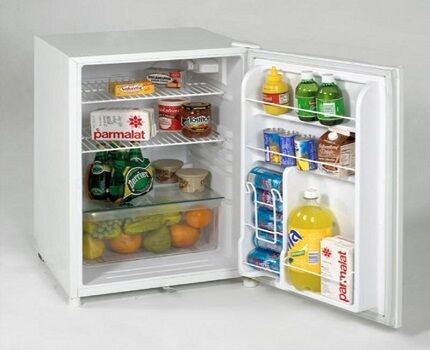 Despite the positive characteristics of this composition, the most reliable is still a combined version – plastic and metal.
Criterion #4 – energy consumption class and control
Refrigeration mini equipment is not complicated by unnecessary details, so do not count on anything more than the electromechanical type of adjustment of operating parameters. However, this solution is quite successfully implemented – for the most demanding customers produce models with multistage temperature adjustment.
As for energy consumption, the refrigerators with small dimensions in the operating mode consume rather little electricity, but for maximum economy they are chosen with energy consumption of class A. However, class B will also have no significant impact on the amount of monthly receipts.
It is also worth paying attention to class C. Such units are also present on the market of household appliances and belong to the compressorless type. Despite the inefficient use of energy, such units do not vibrate and are absolutely silent.
Criterion #5 – Compressor and refrigerant type
Ergonomic models are equipped only with piston compressors. Such a motor unit has perfectly demonstrated its positive qualities. But the refrigerant is available in several variants. It's useful to choose the isobutane motor. This technique is less noisy and has an efficient operation.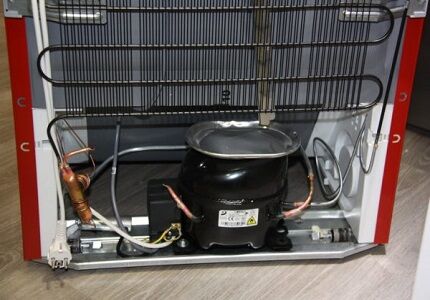 It is also worth noting that piston devices cannot be dismantled at home, as this leads to depressurization. Such a motor will require special equipment to be repaired.
Criterion #6 – climatic category
Because of their compact size, small refrigeration units are installed in the most unusual places: balcony, corridor, garage, etc.
If such areas are planned, it is better to be equipped with knowledge of the appropriate climate class, which is specified in the instructions for the equipment:
T -/+18…+43 °C – not suitable for a balcony, but ideal for hot climate conditions.
N -/+16…+32 °C is the most suitable option for most regions of the country.
N-ST -/+16…+38 °C – characteristics similar to the previous class.
FrostProtect is the technology that is perfect for you if you are looking for a garage, balcony or veranda freezer.
FrostProtect is the technology that is perfect for you if you are looking for a garage, balcony or veranda freezer. Liebherr freezers with this technology are able to work under extreme conditions.
The main criteria that hostesses put before the choice of freezer is its economy and efficiency. After all, a freezer is a device that is designed for long-term storage of food and it is used much less often than a refrigerator. So if you, for example, have very little space in your kitchen, the first candidate to move to the balcony or garage is nothing more than a freezer. But as a rule, these appliances need an optimal temperature to function effectively. In general, any domestic refrigerator or freezer requires certain climatic conditions. We thought about this problem and created FrostProtect technology to solve it.
How does FrostProtect work?
This technology makes Liebherr freezers resistant to low ambient temperatures (down to -15°C). If the temperature is below -15 °C, the security system automatically switches the freezer off, because there is no point in using electricity, because this temperature is enough to keep food even outside the freezer, and this has no effect on the quality of the food.
To create this technology and achieve these results, many different studies and tests have been conducted. Thanks to these many experiments, changes were made to the cooling and control system. In cooperation with compressor manufacturers, the heart of the device, the compressor, was created. The electronics function, which had previously blocked the unit from operating at ambient temperatures below 0°C, was also corrected.
What are the benefits for the user?
Freezers can now also be placed in rooms that are not heated, which was impossible to do before. Thanks to Liebherr's innovative technology, the freezer can be installed without fear in the garage, on the summer house, on the balcony, on the veranda or in any utility room.
However, there are, however, some reservations:
The room must be dry;
It must be protected from wind, rain, hail and other weather conditions;
Electrical and fire safety conditions must be met.
The meaning of the freezer at minus temperatures
You obviously have a question: why use a freezer when the room temperature is already below 0 ° C? The fact is that the temperature is not kept constantly at one mark, it gradually rises and falls. And these fluctuations in temperature have a very negative impact on the quality of frozen food. For example, let's imagine the situation: in winter, at night the temperature on a closed veranda is -5 ° C, and during the day because of sunlight the temperature has risen to 0 ° C or even + 5 ° C. After such temperature drops, the food that was in the freezer can be harmful to the human body.
But the freezers with FrostProtect will maintain an optimal temperature, regardless of the ambient temperature. This allows food to be stored for as long as possible.
Since Liebherr freezers can operate at extremely low temperatures and also withstand voltage fluctuations (187 V to 254 V), they are extremely reliable and unpretentious helpers.
What to Consider When Choosing a Garage Refrigerator?